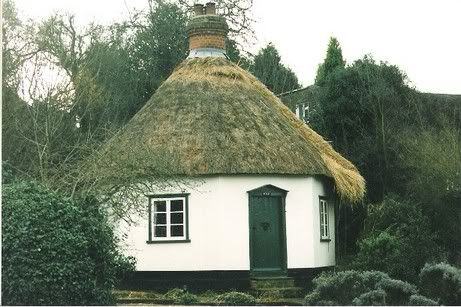 One of the big political debates for Rayleigh this year is going to be about what happens to the Dutch Cottage on Crown Hill. If you're not familiar with it, it's a very small, charming cottage built in the style of the Dutch cottages of Canvey Island. Although there's a date of 1621 on the cottage, it was probably built in the 1700s. As the District Council website says:
To secure its purchase, a public fund had been launched in 1963 by Councillor Victor Curtis, Chairman of the Rayleigh Urban District Council. A Declaration of Trust was made that the building would be 'preserved as an amenity and show place for the District.' Stanley and Ethel Matthews had lived in the cottage since 1934 and they continued their tenancy until 1982. Stanley, in his latter years, had been confined to bed and just prior to his death was dramatically stretchered off to hospital through the dormer window. When Ethel relinquished her tenancy soon afterwards, Rochford District Council, through the Dutch Cottage Management Committee decided to carry out a complete renovation and re-let the cottage. The Committee who guided the project through to completion is comprised of District Councillors and members of the Rayleigh Civic Society and the Rayleigh Mount Local Committee.
Now that the District Council are likely to transfer all their 'normal' council housing to a council housing , what will happen to the Dutch Cottage? There seem to be three possibilities:
A transfer to the housing association with all the other housing stock.
Staying with Rochford District Council
Transfer over to Rayleigh Town Council
At the Town Council meeting last Monday, councillors were very serious about getting it transferred over to them. They are planning to have petitions in the High Street – and in the Rayleigh Conservative Club.
Both the Town Council and the District Council have huge Conservative majorities, so this isn't going to be a party political dispute. Although Lib Dems and Independents are taking a keen interest in this issue, it simply depends on whether the Conservative group on the District Council are willing to hand it over. Once that group has decided, presumably the whip will be on, and there will be little further debate.
Does anyone have any thoughts on this?