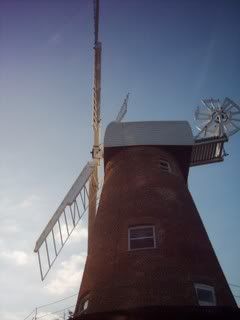 "
The District Council is going to get a license to hold civil marriage ceremonies at the Rayleigh Windmill.
There isn't much space inside- only room for 2 officials plus 16 other persons. But if you want to have a small-scale wedding in nice surroundings, this could be a good choice. There's a new garden next door for your wedding photos, car parking on the doorstep and the possibility of having a small-scale reception at the Mill Arts and Events Centre.
If you want to get married , do it in a civil ceremony with a few friends, and haven't got the money for an expensive wedding, this could be an 'affordable wedding'
The council officers have suggested charging something between ?350-?450.However at the last cabinet meeting , Cllr Peter Webster suggested charging as high a figure as possible in order to maximise the income. He mentioned something between ?500- ?700. Remember, this is the cost for the ceremony itself for a maximum of 16 people, it doesn't include any kind of reception.
The council officers are going to find out the costs of similar venues elsewhere and report back.
But is the council being greedy if it sets such a higher figure? If the Conservative Party are in favour of marriage , shouldn't they set a much lower figure? Or should they just tell people that if they can't afford to use the windmill, they should go to a church instead?