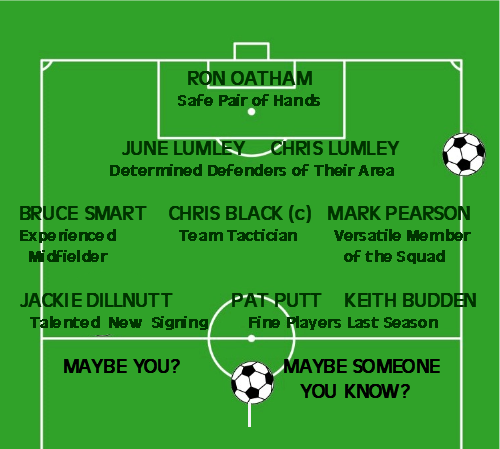 Wouldn't it have been terrible if England had qualified for the European Championships last week but Steve McClaren had said "We don't have enough players, so we can't go, sorry"
We are in a similar situation here….. We got more votes in Rayleigh last May than any other party.
There are 13 seats up for election on the District Council next May (all Conservative-held) . There are 23 seats up for Rayleigh Town Council (mostly Conservative-held)
People will want to vote for us next year… But we don't have enough candidates yet.
Last month Dee left a comment on here saying '..When will someone in the council start listening to what people actually want, and more importantly we need someone to stand up to the council and make them take notice!!!. …'.
We aren't going to the council listening more if the existing councillors are elected unopposed ! If we can get more fresh people elected, we can make more of a difference, we can act more effectively, we can start to achieve more good things and stop the bad things.
If you are a reader of onlineFOCUS and like what we're doing, please think seriously about standing.
The emotional rewards for being a councillor can be very good. You meet lots of interesting people, you have a chance to improve things for your home area and, believe it or not, elections can be almost agonisingly exciting. People are friendly even if they aren't going to vote for you, Residents offer you cups of coffee, glasses of wine, slices of cake. You get to see lots of gardens and stroke lots of pets. You also get financially rewarded too, with about ?1000 per year for being a Town Councillor and ?4000 for being a District Councillor.
More importantly, sometimes you can make a few phone calls or a two-minute speech that makes a big difference for the lives of some of your residents. . (Though other times you will spend hours on something but not achieve what you wanted!)
Being a District Councillor requires some hours every week. But it's quite possible to be one and work full-time as well. Being a town councillor takes less time.
If you want to stand, there's a number of ways you can do it:
– you could be a Lib Dem candidate for the District Council in a target seat with a strong hope of winning and becoming a councillor.
– you could be a candidate in one of our less hopeful wards, you probably won't win but at least you will give the public a democratic choice
-if you haven't got time to be a district councillor, you could stand for the Town Council.
-if there's a reason why you don't want to be a Lib Dem, you could stand for the Town Council as an independent.
If we don't manage to find more candidates, then we'll have the same stick-in-the-mud councillors carrying on unchallenged, with less and less support from the public, and in a few years time someone will suggest we merge with Basildon….
If you'd like to have a little chat with someone about standing , please contact one of us by email.