There's an item for next Thursday's Cabinet meeting- Item 5.2 . It's about appointing a 'Member Champion for Risk".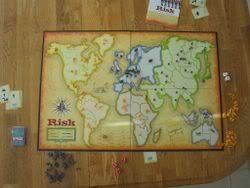 This sounded quite intriguing. Have the cabinet taken so much power that they are setting up board game tournaments to keep the ordinary councillors happy? Would the next step be a Member Champion for Scrabble"?
Actually, the truth is much less interesting. It's to do with having a councillor overview the council's "Risk Management Framework". Very worthwhile work, we're sure, but….