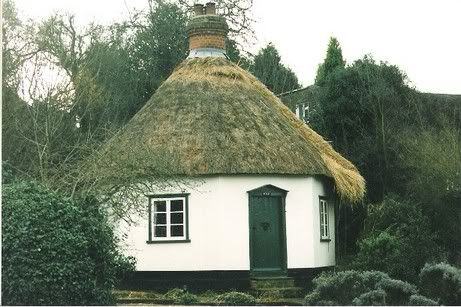 There's an article in the Daily Telegraph today on Rayleigh's Dutch Cottage :
"Britain's oldest and prettiest council house is to go on the market for just ?75 a week.

Dutch Cottage, in Raleigh, Essex, was built in 1621 but now is fully fitted with all mod cons

However, the new occupiers of the Dutch Cottage, a 17th century octagonal thatch in Essex, will have to show parties of school children around their home once a week.

The listed cottage, which was built in 1621 by Dutch settlers who helped to drain the nearby marsh land, is one of only a handful of the tiny quaint buildings left – and the only one owned by the council.

Despite looking like a doll's house, the 20ft cottage in Raleigh, Essex, has all mod cons including a fully fitted kitchen and shower room. ….
(pity they can't spell Rayleigh correctly!)
It's also here in the Mirror (with Rayleigh spelt correctly)
Full details are on the District Council website here:
The 17th Century cottage is one of the most famous landmarks in the District but the Rochford District Council-owned house has also had the distinction of being one of the oldest and most unusual 'council houses' in Britain. The cottage has now become vacant and Rochford District Council and the trustees are looking for a special tenant able to act as custodian and guide.

The candidate must be someone with a passion for the local heritage, a knowledge of history, and a willingness to act as a guide for tours for the public. The Dutch Cottage is open to the public for pre-arranged tours on one day a week!

The Dutch Cottage makes an unusual home. While it has all modern conveniences it also has some unusual characteristics which may not suit everyone for instance the bedroom in the roof is reached by a steep ladder/staircase.

As part of the tenancy agreement the occupier will be required to show people around their home, therefore the Council is looking for someone who would not only care about the building's historic background but who would also enjoy showing visitors round. If you are interested please write to the council with full details and information explaining why you feel you would be suitable for the tenancy. Applications must be received 15 July and should be made in writing either by post to Dutch Cottage Tenancy, Council Offices, South Street, Rochford, SS4 1BW, or by email to david.trendell@rochford.gov.uk

If you are interested and would like more information please contact David Trendell on 01702 546366.