The Rayleigh Leisure Centre has finally opened today, with the official opening performed by Paralympic gold medallist Danny Crates.
There were plenty of councillors along for the big day. It was particularly good to see Joe Capon, baby son of Tory Councillors Phil and Tracy Capon. Tory County Councillor Stephen Castle told Chris Black that there was no point in being nice to this baby as it was already a Conservative but Chris replied "Don't be so sure , I was a Conservative child myself"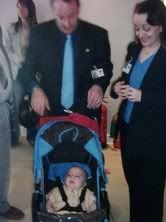 If you have any comments about the floodlighting of the leisure centre, please continue to leave them on the floodlighting post. Otherwise if you have any other comments about the leisure centre over the next few weeks- good or bad- please feel free to make them below.